Faith Grover was voted by staff and students for the People's Choice award at our "in school" art show. This is a new medium that students tried out called printmaking!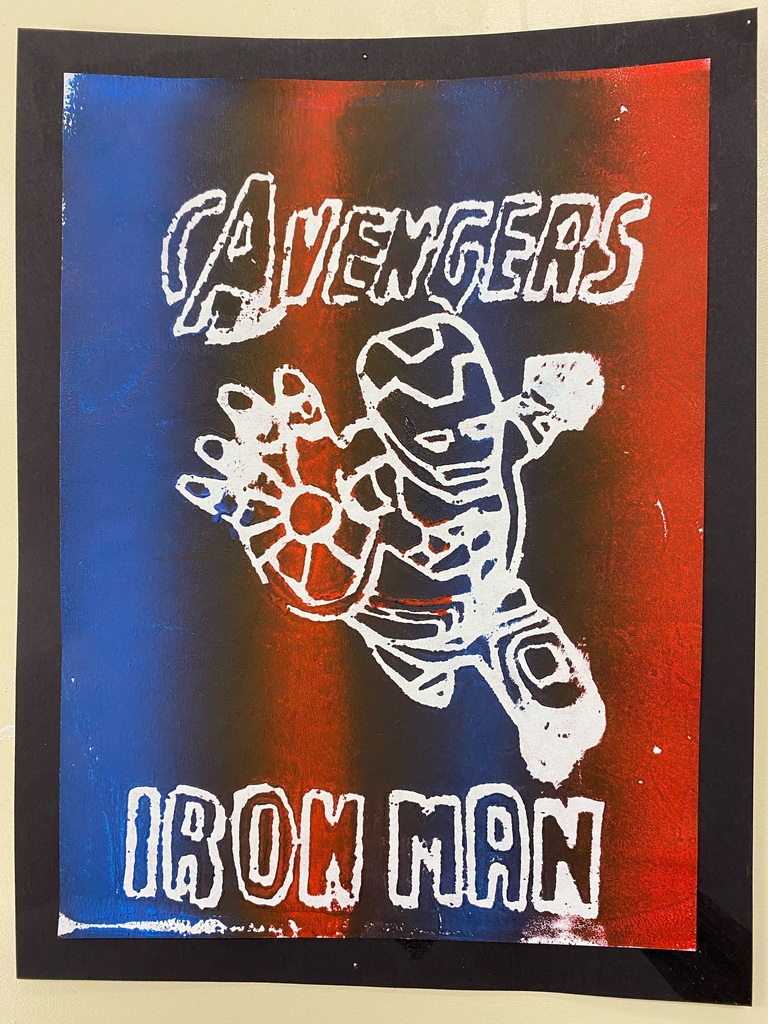 Franklin General Hospital would like to share with the High School this information. They will be holding Pfizer Vaccine Clinics for individuals 12 and older Thursday, May 27, 4 - 7 p.m. with second doses administered June 17, 4 - 7 p.m. and Tuesday, June 2, 2 – 6 p.m. with second doses administered June 23, 2 – 6 p.m. One parent or legal guardian must be present with any minor wishing to receive the vaccine. Call 641-456-5074 to schedule an appointment.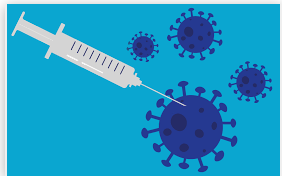 EVENTS FOR MAY 24TH - - Girls Golf Regionals at Waverly Municipal Golf Course - starting at 10:00AM JV/Varsity Softball at AGWSR starting at 6:00PM with JV and then Varsity to follow GOOD LUCK TO OUR LADY BULLDOGS TODAY!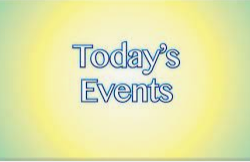 Elias Cortez successfully completed the requirements demonstrating proficiency (testing out in reading, writing, speaking and listening) in two or more languages and will receive the Seal of Bi-literacy on his transcript.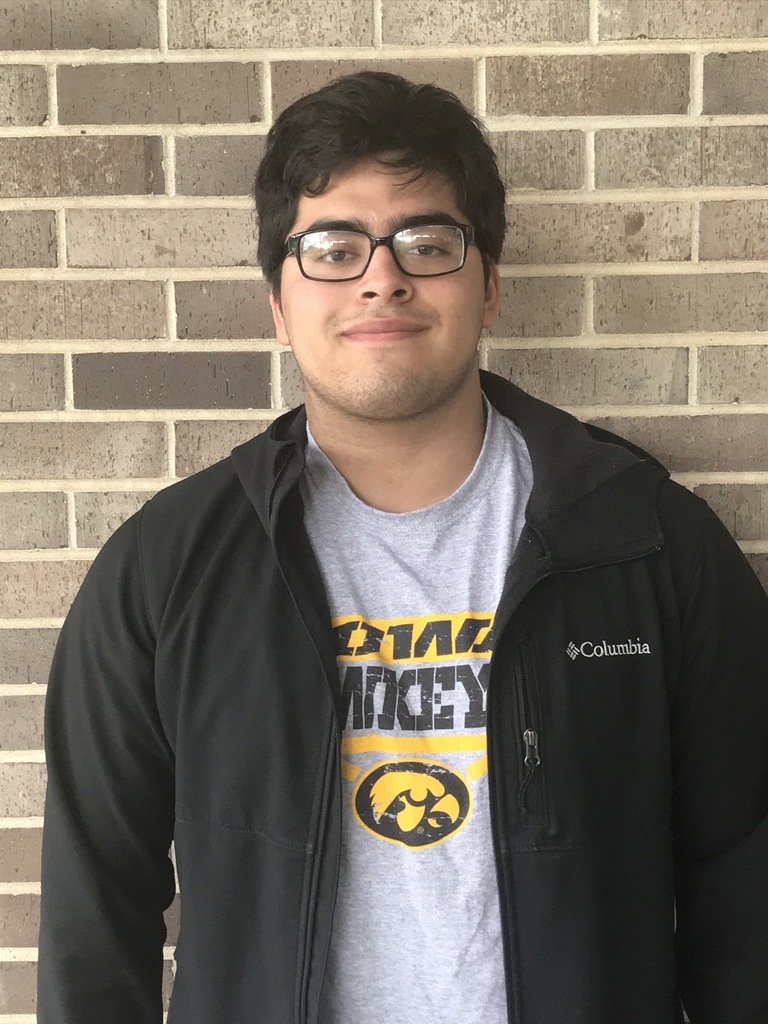 At last week's Hampton-Dumont Board Meeting, it was approved to make Wednesday, May 26th the last day of school for 2020-2021.  School will dismiss at 12:45 p.m. 

When Mother Nature cancels your outdoor picnic...you make the best of it and have an indoor movie!!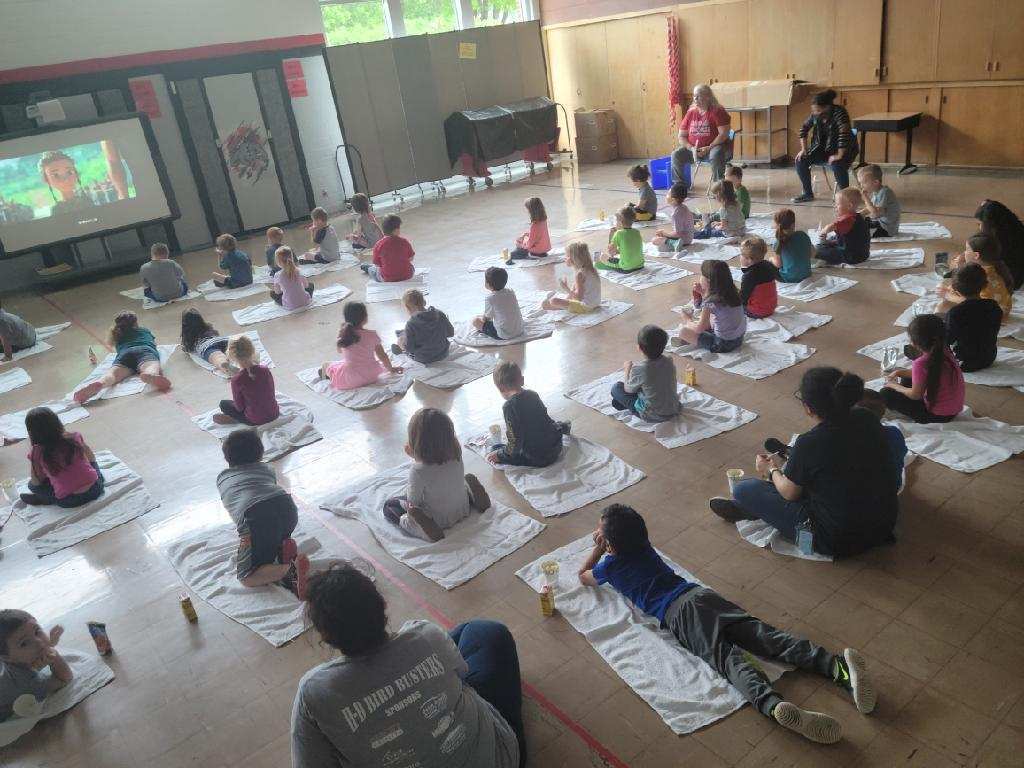 Tonight our Girls Varsity Soccer will host Dike-New Hartford at 5:30PM on the H-D football field. GOOD LUCK LADY BULLDOGS!!

Sophie Dietz is the last senior with artwork displayed in the library. Miss Baltes says that Sophie also loves using a variety of media. From gore makeup to beautiful paintings. You never know what artwork Sophie is going to make. She is taking her artwork to a level that will help her in her future as a mortician and understanding how art is related to all types of professions. Miss Baltes is very proud of these seniors and excited to watch them grow on their next chapter of life. Good luck seniors!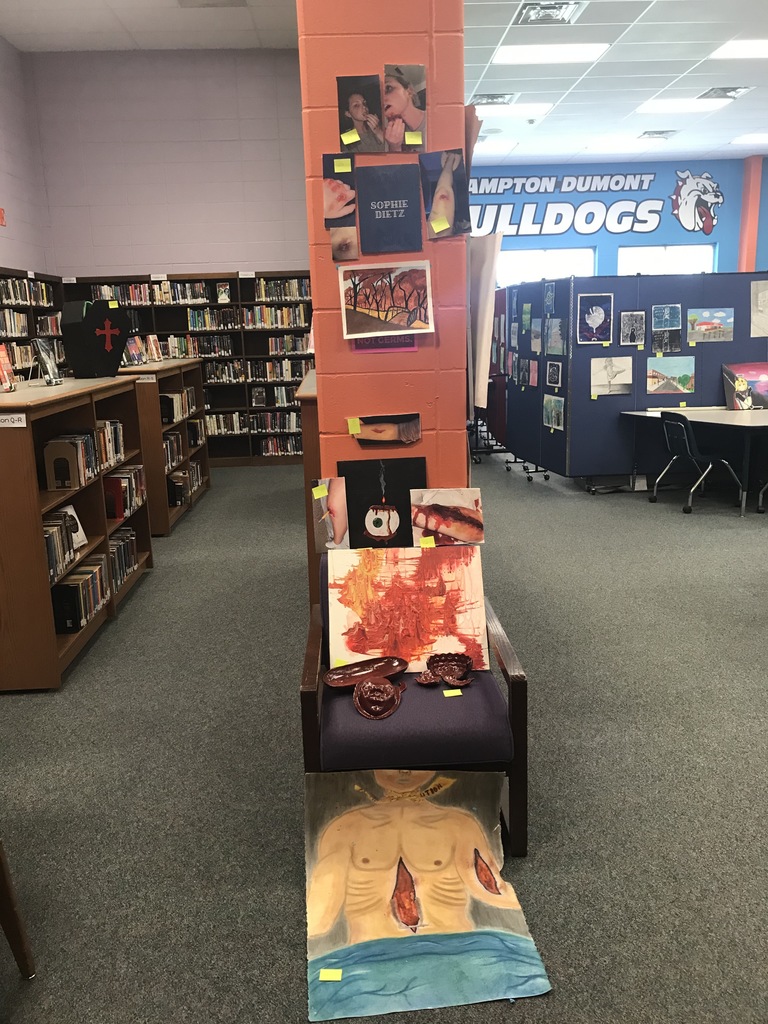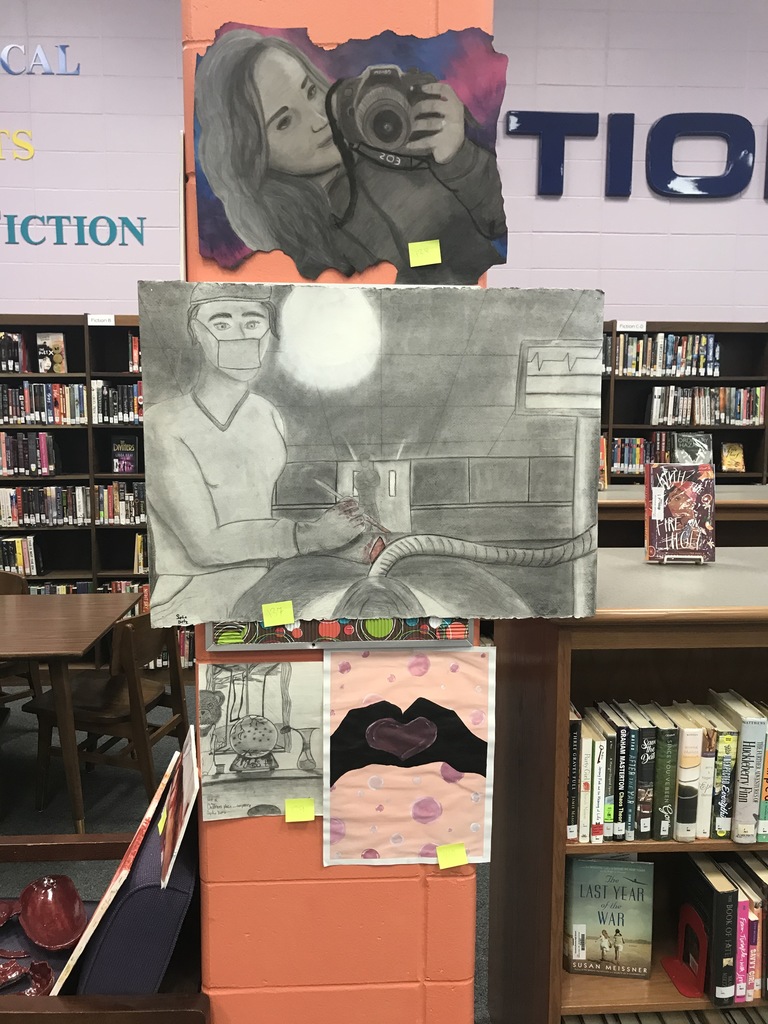 Good luck to our Boys as they travel to Des Moines today to run in the STATE TRACK MEET!! Tony Valenzuela, Max O'Dell, Tomas Cavazos and Tate Schmitt in the 4x100 relay (Logan Pfeffer and Bryan Flores as alternates) AND Jordan Severs in the 400 meter hurdles 400 meter hurdles - 11:30AM 4x100 relay - 1:10PM GO BULLDOGS!!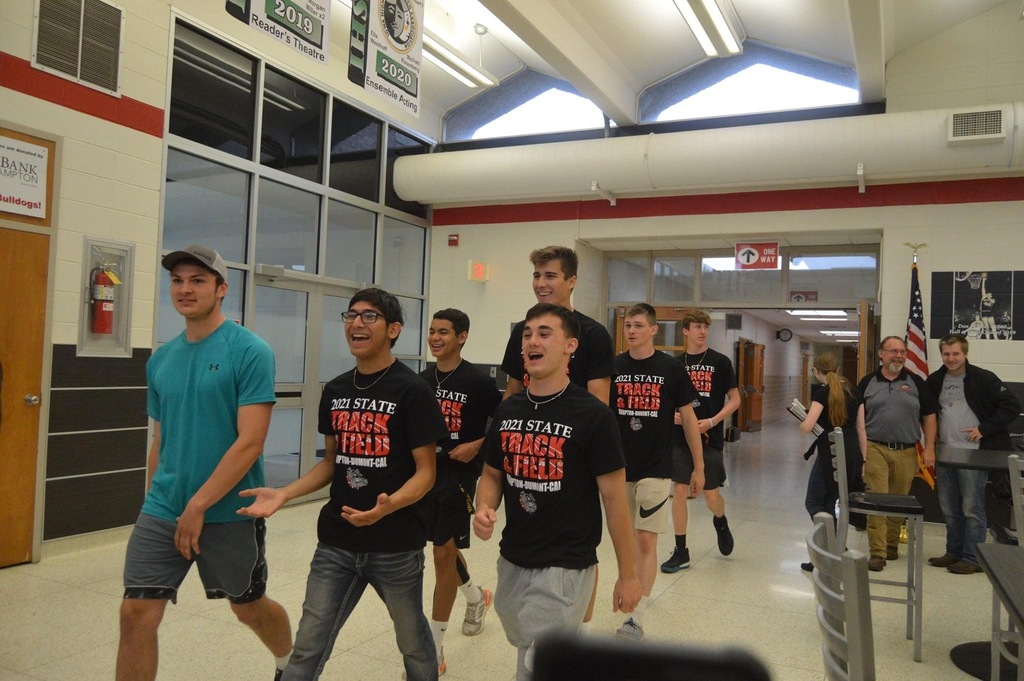 Creations done by Brandyn Foell. Miss Bales comments that he has grown this last year with his artwork and concepts. His love for art is captured through experimenting and discussion. Storytelling and character can be seen in his artwork, and he has done excellent work with creating different series of artwork. Great job Brandyn!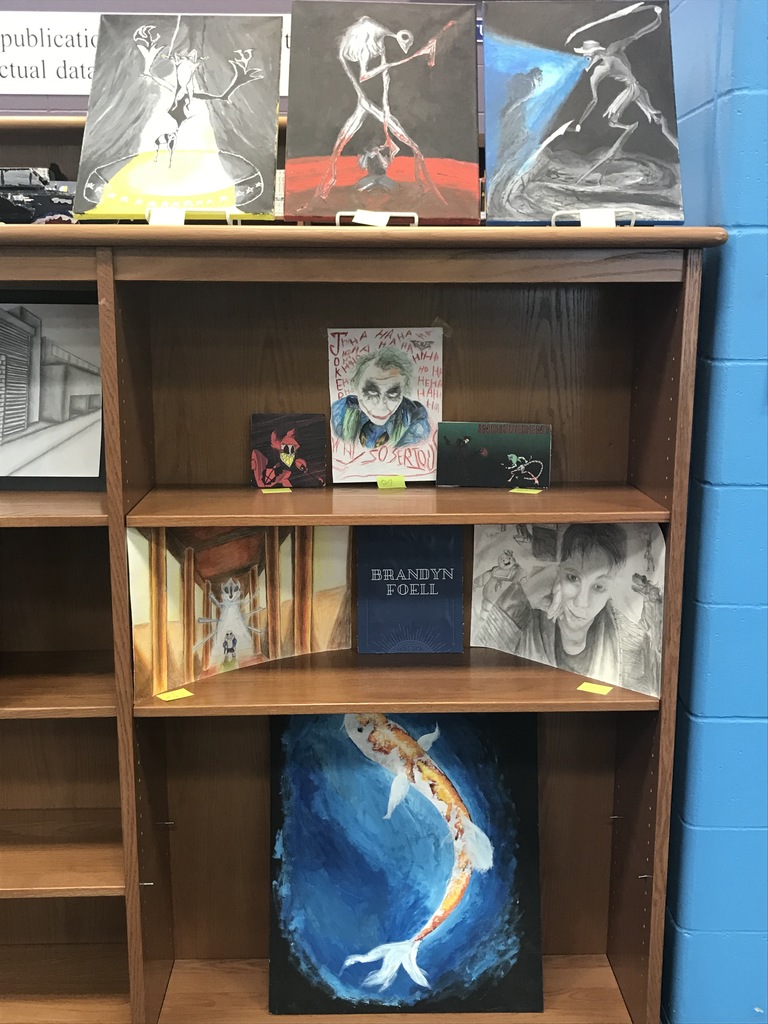 You have brains in your head. You have feet in your shoes. You can steer yourself any direction you choose.-Dr. Suess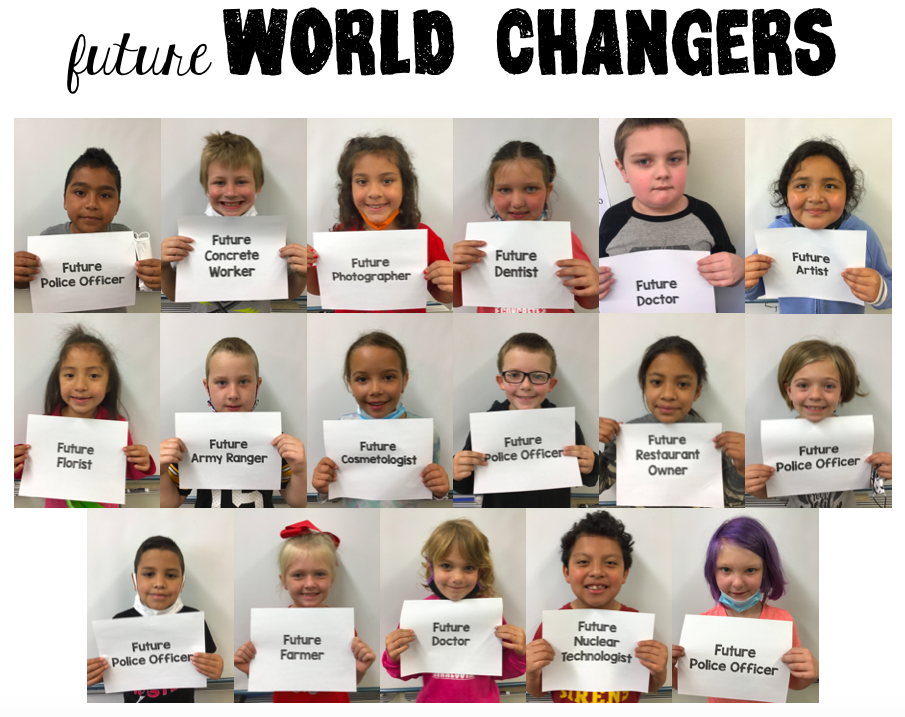 ****IMPORTANT COMMENCEMENT DAY INFORMATION**** In the event of inclement weather on Sunday, May 23rd, a call to move this event into the gymnasium will be made by noon. A district notification will be sent out, it will be posted on Facebook and KLMJ will be notified. If that is the case a parent/guardian/student will need to come to the high school between 12:00-1:45PM to pick up your tickets to be guests in the gym. Again, only 5 guests will be allowed per graduate. Tickets will be available inside the high school at the north doors, those which spectators enter for games in the gym. You must have these tickets prior to attending the commencement, but only if moved indoors. There is no limit for guests if commencement continues to remain outdoors, only spacial distancing between family units is recommended. Thank you for your cooperation!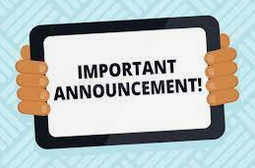 Elementary Walk-Throughs are TODAY for our SENIORS!! Please wear your cap and gown for this event. This is a special tradition that the elementary students really enjoy. We will load the buses at approximately 11:45 this morning, following lunch, and go to the Middle School, CAL, North Side and then South Side. We will arrive back at the High School around 1:30-2:00 for mandatory graduation practice.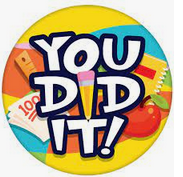 Student Council Election Results for 2021-2022 school year: 10th Grade: President - Lydia Maas Vice President - Gavin Meader Sec/Treasurer - Brody Walton Stuco Reps - Emily Rodriguez, Zoe Erdman, Heather Howrey 11th Grade: President - Katie Hilton Vice President - Will Sackville Sec/Treasurer - Tiernan Ziegler Stuco Reps - Emma Showalter, Katie Sosa 12th Grade: President - Isabelle Miller Vice President - Isabella Noelck Sec/Treasurer - Alondra Morteo Stuco Reps - Faith Grover, Irlanda Tangarife, Lauren Meader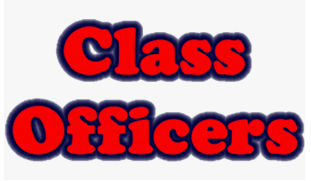 Good luck to our Girls Tennis today as they play in their Regionals at Decorah today. Matches started at 9:00AM. GO BULLDOGS!!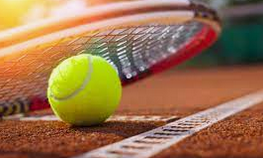 Creations done by senior, Cassandra Condon. Miss Baltes describes Cassie as an exceptional artist, and it has been a pleasure to teach her this year in art. Her artwork captures darkness and storytelling. Miss Baltes loves seeing her ideas come to life through digital artwork, painting, drawing, and other types of media. Great job Cassie!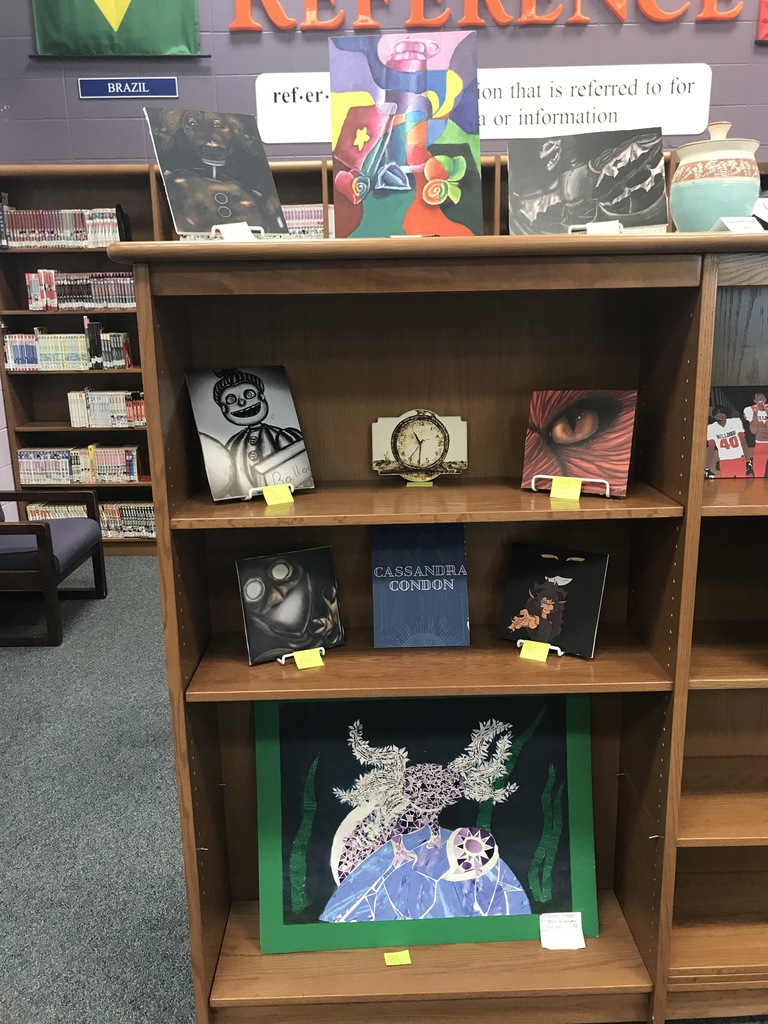 These are all creations done by senior, Aliza Yanez. Miss Baltes describes her as driven artist and not afraid to try different types of media. She takes art to new heights with her concepts and ideas. Miss Baltes is excited to see where the next couple years takes her on her endeavors. Great job Aliza!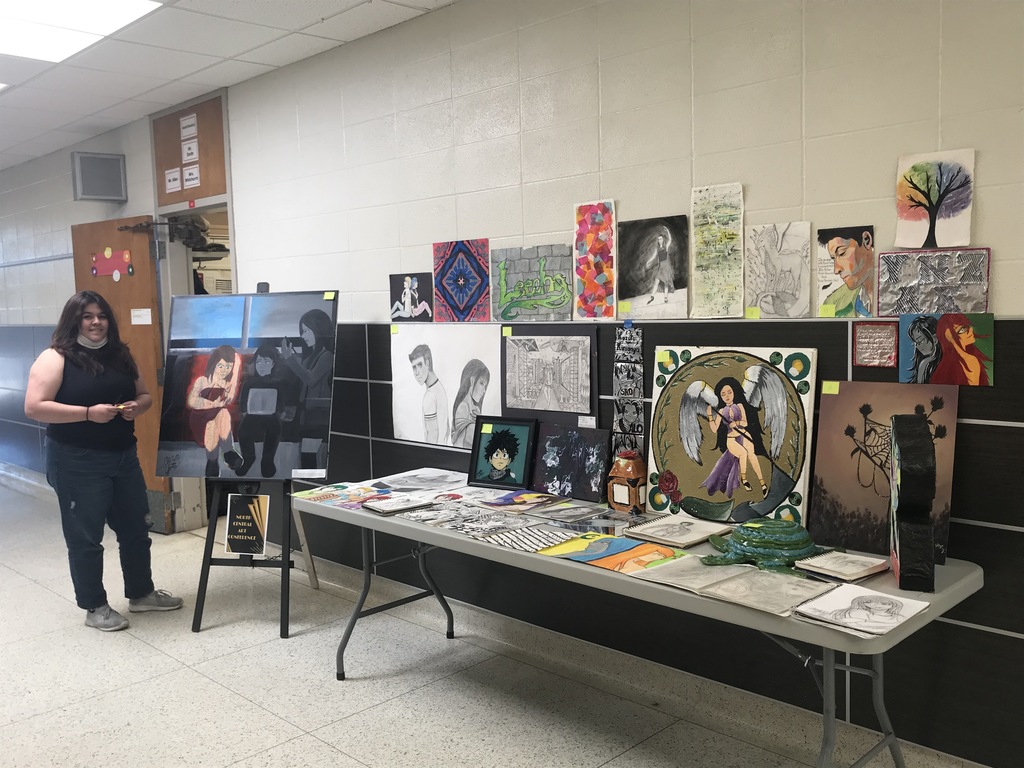 *Farm to Table Beef* Today hamburgers at lunch were sponsored by a USDA grant and Purple Ribbon Beef out of Clarion, Iowa. Mrs. Hoegh's Foods 2 students grilled them especially for students and staff. GREAT JOB H-D STUDENTS AND THANK YOU TO OUR SPONSORS!